Just to let you understand more the schematic. Pin 6 is VS, that is the centre between the 2 mosfets. Here the direction of current flow changes polarity every half cycle.
As more current is drawn by the mosfets a ripple is generated the more current the larger the amplitude of the ripple. We are now sensing this AC ripple but blocking any DC path with the small capacitor.
Now this ripple is rectified and sampled so that when a certain voltage is reached it will trigger the protection. In the V2 an SCR. this scr will pull the supply pin to ground hence switching off the smps.

It is now important to add again the 200R resistor and remove the diode at the start up section. The scr when trggers stays on until the smps is disconnected. If left on without this resistor it will eventually burn the transistors in the startup circuit due to excessive curent.
What I am saying is that between schematic and pcb (V2) there are inconsistencies.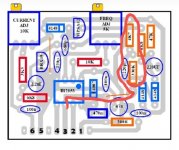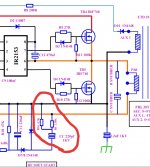 RC 330K ----->PIN#6 (IR2153) in board. No schematic.