Cathodic Protection Station with Switching Power Supply for Buried Metal Structures
Benefits of the Switchmode Cathodic Protection Rectifier:
Can be installed in any existing CP (Cathodic Protection) cabinet.
Optional integrated remote monitoring (data transmission).
Increased output efficiency, over 90% compared to conventional transformers.
Improved efficiency means less heat and greater thermodynamic stability, especially in hot environments.
Smaller and lighter in size than the conventional transformer rectifier counterpart, resulting in lower transportation and maintenance costs.
High-quality DC output significantly enhances cathodic protection performance.
Reduced carbon footprint.
Lower AC current consumption.
Less copper usage to reduce costs, weight, and theft.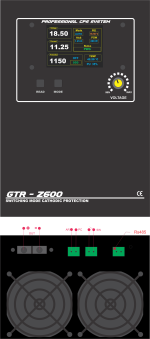 Characteristics
Power Supply Voltage - 230 VAC, 50Hz Dimensions - 220
152
105mm (L
W
H) Weight - 3.1 kg Ventilation - Forced with fans Consumed Current - 3A Switching Frequency - 40KHz Nominal Output Voltage - 0 - 30V, stabilized Nominal Output Current - 0 - 20A, continuous Humidity - 85% without condensation Ambient Temperature - 0°C to +35°C Efficiency - 94% Protection Class - IP20
Controller
Internal Protection - OVP/OCP/OTP
Display - TFT color 320x240/2.8"
Displayed Parameters - Current / Voltage / Potential / Operating Temperature / RAS / POW/PU
Status Display - PWG/OVP/OCP/OTP Control - Manual (via potentiometer) / Automatic (PID) / Dispatcher
Operating Modes Display - MAN/AUTO/DSP/SAFE Communication Port - RS485 protocol - Industrial Modbus
PWG - Normal Operation
OVP - Overvoltage Protection
OCP - Overcurrent Protection
OTP - Overtemperature Protection
RAS - Sacrificial Anode Electrical Resistance
POW - Output Power (watts)
MAN - Manual Control
AUTO - Automatic Control (PID)
DSP - Dispatcher Control
SAFE - Safe Mode Operation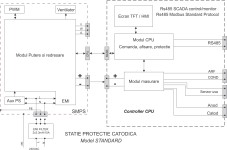 Last edited: