Hi' Res i see you got a good result. From what I see you are loading around 1140w and input sees 1760w that is around 60% eff. This may not be true as power factor tend to draw more current than what really is drawn from smps. You need to see the actual watts at the input with a watt meter. Above all regulation seem to hold well with only a 2v drop. Well done Res
Dear Silvio,
I think the meter on the input measures peak current, from this screenshot Pin = 1292W, Pout = 118*9.49 = 1119.82, the result is 86,4% eff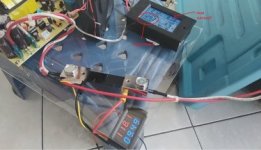 maybe these results are also not really accurate, I just did a quick test, not comparing with my clampmeter / multimeter.
because my kids play around me, I don't want them to touch it