It is a bass amplifier, or a subwoofer amplifier..goes to 200 hertz only.
It was made to match Dx Blame ST and Dx Super A being an complementary channel to reproduce only bass or subwoofer tones.
It was a sold design, made to Miguel Nabuco (Mitchel) that allowed me to publish two low power versions to the community..the high power versions will not be published anywhere because they are exclusive to Mitchel use in his own power amplifier speaker cabinet.
Models are:
Dx Mini Mini - 30 Volts supplies
Dx Boom - 42 volts supplies
Dx Apocalypto - 70 volts supplies
Dx Armagedon - 90 volts supplies
The two first ones are free to be used, published and built...i have built them, also Juan Vargas Diaz has built too..and we feel it lovely....perfect sound..very low distortion and very high power.
It uses a very simple low pass filter in the input...any operational amplifier can do the job there.... and a modified Dx Amplifier mixed with Dx Super A and Dx MKII and Dx MKIII are there.... a new amplifier design, that ressembles all Dx Amplifier because belongs to the same Corporation (heheheheh)
The Dx Boom layout is not ready...Juan Vargas will make it and also Zimmer (from Brazil) may produce it...i am showing you the Dx BOOM schematic but the layout is the smaller version, the Dx Mini Mini.
Dx Boom layout not available for a while...soon we gonna have it and i gonna post it here.
A video presentation, in English but having portuguese language starting in 11.:45, will explain you details about it.
regards,
Carlos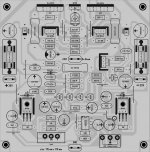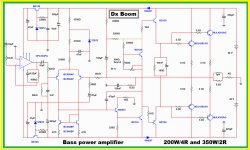 [video=youtube;_ci-JMiA92U]http://www.youtube.com/watch?v=_ci-JMiA92U[/video]