one of my subwoofers amps had a major failure. I have purchased replacement amps but they are not working well in my setup and I have been trying to repair the old amp.
SMPS is using IR2153 that drives two pairs of 17N40 connected in parallel. I have discovered a blown driver FETs on the primary side along with bunch of other components. Since there is no service manual/schematic I had to create one (there might be errors). I believe I am dealing with shoot through conditions due to insufficient dead time.
Here is what the dead time on a good working PSU looks like. It is 1.2us as per data sheet. It runs at ~64kHz.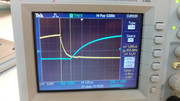 The board I have repaired has dead time of 960ps and runs at ~64kHz. I have tested the circuit with FETs disconnected and it made no difference (Vs connected to GND to enable Ho).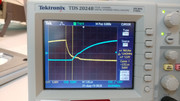 The daughter board that connects to main power supply board has IR2153. Here is what the schematics looks like. It is possible I missed something. The Pin 1 is not connected to anything on the main board (test point?).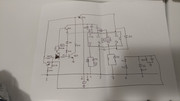 Here is what the main board primary side looks like.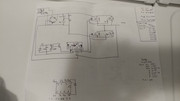 Here is what failed on the daughter board:
Q2 and Q4, R220 (should be 221, I replaced it with 220), diodes D3 and D4 connected to Lo and Ho output pins of IR2153 and 47.5Ohm resistor connected in series with the diode on Ho, IR2153. I created a short while probing around and had to replace 47Ohm resistor.
On the main board I replaced 25V zener diode.
I also measured caps that connect Vb and Vs (pin 8 and pin 6 respectively) on IR2153 in circuit on good and bad board. Good board 107nF and bad board 111.7nf.
Any suggestions how I should proceed further?
Last edited: