Hello everyone,
I'm new in this domain and I want to make a smps with optocoupler driver. i need your support for this project.
In the past I built some smps, but with transformer driver ( GTD ) and also I tryed the IC IR2110 ( and I couldn't made this to work...every time when I used this driver the IC and transistors burned.)
Here is the scheme which I'm based (for the upper transistor) and for the lower one it's more easy.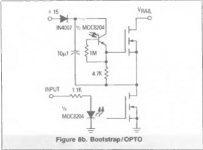 Before driver I will use PWM oscillator SG3525 without regulation for output voltage. I want to make an audio power supply and I don't need regulation, What I want it's an simple and robust design.
The main transformer will be an ETD 49 wich it's made for an switching frecwenci of 70kHz and 62Vcc.
I used for bobinating of the primar winding an number of 4 wires with a diameter of 0.6mm and for secoundary, two simetrical bobins made with 6 wires and the same diameter.